Bat study kicks off to fight deadly disease as it spreads west
The Wildlife Conservation Society (WCS) recently launched a 4-year study to help scientists understand the occurrence of White Nose Syndrome (WNS) in Western bats.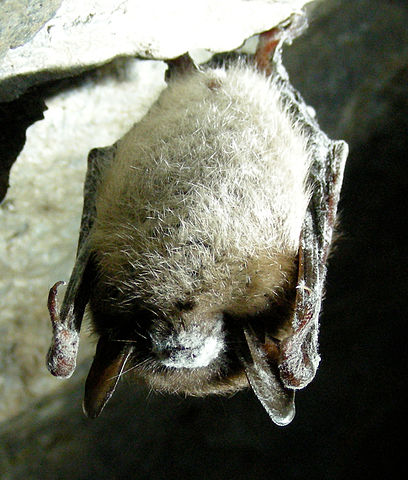 CSP's Brett Dickson, a co-PI for this study, will work with a group of scientists from WCS, WCS Canada, Texas Tech University, Montana State University, and Massey University. Funded by the Strategic Environmental Research and Development Program, the study will look at WNS occurrence within and around military installations.
CSP will be responsible for developing several models to help forecast the likelihood of exposure and mortality for unaffected populations of target species. The resulting maps of current and future bat habitat will help managers identify how susceptible species might shift their distribution under a changing climate.
WNS, which emerged in 2006 and has already caused widespread mortality and threatened some Eastern bat species with extinction, had been advancing westward at an alarming rate. In March 2016, however, a WNS-infected bat was discovered in Washington State — the first recorded occurrence of the disease in western North America. Caused by a fungal pathogen and named for the white fungus on the muzzles and wings of affected bats, the disease alters the physiology and bioenergetics of hibernation, leading to increased arousal and depletion of fat stores.
To learn more about WNS and CSP's role in this study, read our December 2015 news story.