Our Vision: To design and lead creative, new approaches to solving conservation problems that integrate deep ecological knowledge with emerging technologies and unique forms of collaboration.
Conservation, Innovation, and the CSP Creative Process
Our Goal: Within the next 10 years, our goal is to establish CSP as a model for innovative practices that help solve ongoing or emerging conservation problems. Ultimately, we seek to help society preserve the rich diversity of life on Earth.
The Challenge We Face: The world is complex, with continuously evolving conservation challenges and opportunities. Approaches that worked in the past are often insufficient for the present context. Traditional research institutions grind slowly while the pace of landscape change hastens. Getting ahead of this century's conservation needs therefore requires a combination of deep knowledge gained over generations and continuous innovation with faster research response times.
Our Approach: At CSP, we know that conservation science is not enough. At the root of our approach is broad collaboration with a wide range of colleagues who range from traditional partners like land management agencies to newer collaborators such as design firms, businesses, and the arts community. Our methods of working are also unique, involving multidisciplinary design teams within our mobile Innovation Lab.
What is the Innovation Lab?
The Innovation Lab is not a physical space or fixed group, but rather a fluid means of gathering clusters of CSP staff, stakeholders, and creative partners from outside of conservation in some cases. Together we explore emerging needs, create prototypes, and conduct experiments at key moments in the inception, development, and transition of projects.
What Do We Mean by Innovation in Conservation?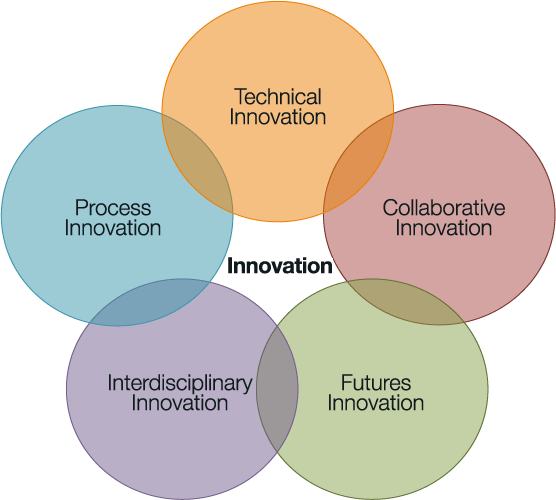 Technical innovation: Developing new methods, technical approaches, and tools
Collaborative innovation: Partnering with diverse collaborators across all sectors of society
Process innovation: Continuously exploring and redefining our internal creative processes
Interdisciplinary innovation: Making new connections among deep bodies of knowledge
Futures innovation: Visioning possible futures and creating solutions that account for uncertainty and multiple pathways
Our Process: Our staff continuously experiment with how to make our workflows more creative, efficient, and effective. As a part of this, we partner with highly creative individuals and organizations from outside the conservation world to share knowledge and best practices in innovative research and development.
Working With Us: Our partners and clients are at the center of how we work. We want every partner to leave each project inspired and having experienced a different kind of collaboration that is effective in preserving species, systems, landscapes, and bioregions. We invite you to join with us in these efforts.